We are thrilled that Michael Bozzo, Senior Manager of Client Services for the US Tennis Open, shared with us some of the fun things that he does regarding team building and helping his group focus on the customer experience. Mike's passion for delivering exceptional customer service was evident when we started partnering with the USTA almost six years ago and he continues use the training and reinforcement provided by Signature to build a culture of excellence. Thanks Mike for sharing.
Barry Himmel, Senior Vice President
What color are your pants?
By Michael Bozzo, Jr., Sr. Mgr. Client Services, US Open Ticket Operations
Each year, as the Sr. Manager of Client Services at the US Open Ticket Office, I am tasked with assembling a team of seasonal employees to assist with the duties and obligations of putting on the highest attended annual sporting event in the world, the US Open Tennis Championships held in Flushing Meadows-Corona Park, New York. This team of temporary staff helps the full time employees of the Ticket Office by providing a high level of customer service to both renewing subscribers and new ticket holders of the event. The group is usually a mix of returning staff that has worked past US Open tournaments and new hires, getting their first experience working every day for two weeks putting on the premier event in US Tennis.
Part of the mystique in building this team is creating assignments and matching the seasonal staff member's skill set with a position or responsibility within the Ticket Office. Some of these positions require face to face contact, troubleshooting with ticket holders on-site at our event and other jobs are based primarily in assisting clients by phone, email and chat. As the hiring manager, I enjoy the challenge of matching the personality of the seasonal staff member with a fitting responsibility and getting to know them is part of the process.
One of the fun team building activities we have developed is department dress color coordination days to make some memorable moments and a chance for the staff to bond! We pick a theme and give everyone time to plan a wardrobe to wear on a specific day. I love how something so simple, with little planning (and at no cost) develops into a closeness of our staff and gives us all something to look forward to participating in together as a team. And, of course, creates some fun opportunities for selfies….
The days have morphed into other opportunities to allow the staff to give these days each their own title: Maroon Monday, White Wednesday, Pink Party Pants Friday and everyone's favorite, Sunny Pants Sunday, on which yellow is the color of choice!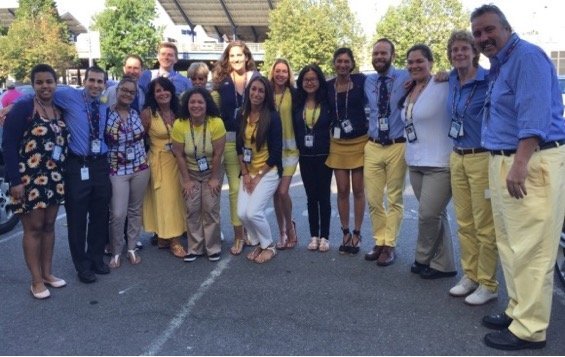 It is hard to believe we are entering our sixth year partnering with Signature Worldwide. They have made training for our Client Services staff easy, entertaining, and educational every year! Since 2010 we have been tweaking our Magic Formula, and the entire team at Signature Worldwide has shown their expertise in learning the business model of our department, realizing that we are unique from other hospitality based businesses and that it's okay to be a little quirky and have fun while getting the job done! These activities not only give our team the chance to bond, they are a valuable lesson in flexibility when it comes to working with customers on policy – reinforcing much of what we learn during our on-site training with Signature each year. Customer service is not a one size fits all, or set of rules that fit every scenario, but by being creative and looking at the situation through a different color lens (or by wearing a different color pants) a solution can be found!