Customer service training that increases customer loyalty, raises customer service scores, and motivates your employees to deliver legendary experiences every day.
Improve customer impressions and customer service scores when you use Signature Worldwide's Customer Service Edge Training™ employee training program. Not your typical employee training, Customer Service Edge Training is a fun, unique and empowering training solution. Our two-part training focuses first on giving frontline and support staff the training, motivation and confidence they need to make every customer experience an exceptional one.
Some things will never change – people want a connection, people want to be pleasantly surprised. This expectation exists not only when making a purchase, but beyond to all customer interactions. Our Customer Service Edge Training™ program includes four-hour training sessions broken out by functional units to focus on all service touch points.
Customer Service Edge Training Program
If you want to see your employees delivering an elevated level of customer service, your managers and supervisors need to deliver the same level of service to your employees. Employees can only carry out their new skills if they are enabled and motivated by their leadership team. That's why our program also includes a four-hour training program for managers and supervisors that builds on our service training by emphasizing communication skills and feedback delivery.
Each of our training programs includes three key components of a successful, ongoing training process.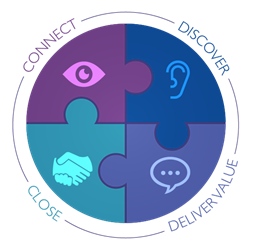 Assessment and Program Development
In this phase, we want to talk with a number of employees across all levels – owners, managers, supervisors and the front line. We ask a wide variety of questions but, bottom line, we want to know – what specific behaviors would you like to see that will close the gap between expectations and reality? We have an arsenal of suggestions, but first we discover who you are and who you want to be.
The good news is, this isn't rocket science. We have the fundamental materials to take you from here to there. The other good news - we really want to tailor our materials to promote your culture. Let us take what we know, but format it to communicate to your team members your unique culture.
This is, in truth, our favorite part. Our trainers have been with us a long time, because we keep them happy and engaged! Our trainers understand how to put on a great show and keep everyone participating, all while ultimately ensuring that learning is taking place.
Service Staff
Our four-hour initial training event combines similar functional groups and focuses training on core service skills. Every potential customer touch point is your opportunity to create loyal, repeat customers. In these sessions, we cover four critical areas to the guest experience – Connect, Discover, Deliver Value and Legendary Close.
Using our proven "Magic Formula" and nine non-negotiable service skills, we provide the tools needed to create a legendary customer experience every time an employee encounters a guest.
Management Staff
The day after frontline skill training ends, we bring managers and supervisors together for a session on Coaching for Performance™.
The agenda for the Coaching for Performance™ class is a simple one – we help your managers and supervisors get comfortable in their role as role models and leaders. We give your managers the tools and motivation to deliver both developmental feedback and, more importantly, meaningful praise whenever their team interacts with customers. The key to success is daily feedback and motivation.
Path to Success – Continuous Reinforcement Program
The success of any program is directly dependent on the quality of support offered to trained employees after the initial event. Employees must be continually measured, evaluated, and coached after the initial training event. Signature offers a variety of reinforcement program to support this process for both service staff and supervisors and managers.
Signature reinforcement options include:
Group program driver sessions
Regular reinforcement sessions
Customer experience phone training refreshers
Web-based management reporting
Download our product card for more information:
Customer Service Edge Training™ empowers and instills ownership by creating positive experiences with customer service training designed for  frontline customer facing employees, counter personnel, service staff, back office staff, service supervisors, department managers, general managers.
Download Now
Ready for results from our dynamic hospitality service training program?
Our clients say they experience exponential increases in repeat business, better TripAdvisor reviews and word-of-mouth endorsements. Contact us to find out how Service Edge™ can do the same for you.