Prospecting is the most under-utilized sales tool.
Why? Because sales prospecting is difficult; at least it was until we developed Legendary Prospecting™
Signature Worldwide offers three specialized, focus sessions around prospecting. Signature's Legendary Phone, Email and Social Prospecting™ training encourages business development as a continuous, active process. In these sessions, attendees will learn to create the right message and then put it to use with on-the-spot prospecting. Each delivery method is unique and understanding the best practices for phone, email and social will differentiate you from your competitors and increase real opportunities in your pipeline.
Legendary Prospecting – Phone
Anyone who says the cold call is dead probably isn't doing it right. In this session, attendees will learn current best practices for prospecting on the telephone.
Should you leave a voicemail for a prospect?
What is the best time to make phone prospecting calls?
How engaging is your elevator story – do you even have an elevator story?
Do you understand how to use sensory language to increase interest?
These topics and more are covered in our 4-hour Legendary Prospecting – Phone session. Attendees are encouraged to bring leads who have not historically been responsive, and we spend a portion of the session making phone prospecting calls – live fire!
Legendary Prospecting – Email
The goal with this session is to help attendees learn to fill their sales pipeline by creating effective prospecting emails that get noticed and get responses. Best practices for writing powerful emails will be covered extensively in this program and participants will learn:
How to create a subject line that draws the reader in – and gets through SPAM filters
Write email content that gets to the point, encourages action on the part of your prospect and gets results
What to include and exclude from your signature line to increase response rates
How to make email prospecting an easy part of your sales day – every day
Participants are encouraged to bring prospects to the class who have previously been unresponsive. Actual prospecting emails will be composed and sent during the session by participants, and many will receive a response from their prospect before the end of the session.
Legendary Prospecting – Social
Finding and approaching prospects via LinkedIn, Twitter and Facebook requires an entirely different skill set if you want to see success. These social tools, used correctly, can add opportunities to your sales pipeline from day one. Use the tools incorrectly and you can harm your business.
Participants in this session will learn:
How to create profiles in LinkedIn, Twitter and Facebook that will differentiate you from your competitors
Finding leads online - how to create searches in each social network to find your best targets
The importance and technique of positioning yourself as an expert and consultant for your prospects
How to identify the best social media networks for your target markets
The art of building successful social relationships
Creating online goals and action plans
Download our product card for more information:
Teach your sales team how to uncover leads in today's online environment and break through the clutter to get on the radar of qualified prospects.
Download Now
Prospect the Right Way: Six Tips to More Leads
These tips will make a noticeable difference in your prospecting abilities as soon as you're done reading.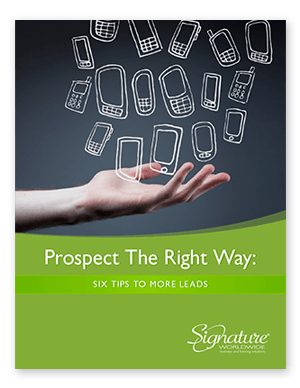 Ready to get more from sales and customer service training? Our proven process will set you up for success.