Sure, we provide training and ongoing reinforcement. But we know you want actionable information that you can implement to improve your customer service NOW. Because, if you're here, chances are you know that you or your team's service and sales could improve.
Our guide will share six secrets that can make an immediate difference:
Find out how to build better relationships with your customers.
Learn how to make every interaction with a customer an excellent customer service experience.
Pick up tips for your current transaction with the customer and their future purchases to come!
These tips will be a step in the right direction and can make a noticeable difference in your customer service experience as soon as you're done reading and begin sharing what you've learned.  You'll leave at the end of the day knowing you have made an improvement in your team or in your own performance.  So what are you waiting for?  Download your copy now.
Signature Worldwide is known for customer service training, tips for customer service, improving customer service excellence, increasing customer service skill sets, creating a better customer experience, and improving your overall customer service experience. Contact us today for more information on our customer service courses and sales training, as well as other training programs and solutions to benefit your company.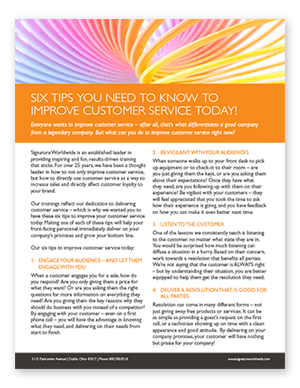 "*" indicates required fields