Creating legendary customer experiences has been our goal since 1986. Signature Worldwide has trained hundreds of thousands of customer-facing employees to take their customer service levels from ordinary to noteworthy.
Each of our customer service and inside sales training programs includes direct training - onsite or virtual, along with ongoing support and mystery shopping. Merely presenting your employees with a training module is never effective long term. Our years of experience have shown us that any training program may inspire or motivate, but the key to long term success lies within the post-training follow up. Measuring skills, reinforcing positive behaviors, sharing best practices, all of these elements are necessary to elevate your customer's experience every time.
Our specialized front line sales and customer service training programs include:
Customer service and sales training for equipment dealers that teaches inside sales personnel how to build relationships, gain commitment from the customer, and close the sale.
Provide your field service staff the skills needed to put the customer first, so they can further build your reputation and increase customer retention.
At behavioral health facilities, your employees must quickly establish a relationship of trust and confidence and bring assurance that your facility is the one that can best help them. This customized program teaches specific skills that provides you a competitive advantage and helps your employees manage the interaction.
Our most popular hotel training program, this sales and customer service training program helps your hotel front desk and reservations staff convert more inquiry calls to actual reservations while delivering legendary customer service.
Hotel customer service training for the front desk, housekeeping, food and beverage, activities, or spa employees. Our proven training programs promote awareness and ownership among your employees.
Upscale hotel front desk training, hotel reservations training and hotel customer service training. Designed to help agents enhance the experience of luxury travelers searching for their ideal destination.
Casino and hotel customer service training - from hello to goodbye, our casino edge training can elevate your customer service and sales levels in the reservations department, VIP services, valet, bell staff, front desk and throughout the casino floor.
Skilled service and sales employees are absolutely essential to success in the spa industry. Signature Worldwide's Spa Edge ™ program gives your staff the training they need to convert more inquiries to appointments and improve customer loyalty by creating legendary experiences.
Don't just take orders and deliver products - engage the customer and make their customer experience the reason they keep coming back.
Hiring and retaining the highest caliber of service representatives is a top priority to ensuring resident satisfaction. These representatives play a vital role in generating business and boosting service scores. This program will empower employees and increase their commitment to delivering legendary service at every resident touchpoint.
Work with apartment inquiries more successfully and convert more prospects to renters.
Live chat online is an increasingly important platform for enhancing the customer experience. This program teaches staff how to professionally handle live chat experiences and convert more chat inquiries into sales opportunities.
Voice of the Customer: Finding Out Why Customers Love You
We survey thousands of our customers every month. Find out what we've learned and how this applies to the way you do business.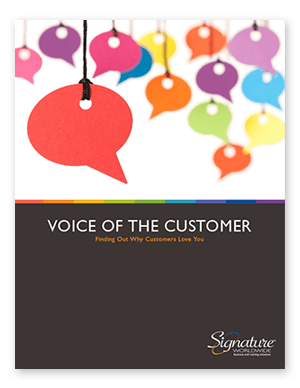 Six Tips to Improve Customer Service Today
Here is actionable information that you can implement to improve your customer service NOW.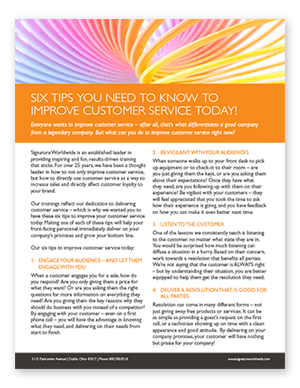 Ready to get more from sales and customer service training? Our proven process will set you up for success.