Move your audience to take action with the Persuasive Presentations Skills™ Workshop.
Successful leaders are successful communicators. They understand that the ability to inspire is directly related to their ability to share knowledge, ideas and goals. They know that there's more to moving an audience to take action than a series of colorful PowerPoint slides.
Whether you have the need to lead, convince, sell, or inform, strong presentation skills are more necessary today than ever. Quite simply, executives who have the ability to incite imaginations and inspire action, win. Companies expect their managers to be able to deliver effective sales presentations – whether the audience fills a convention hall or is a single influential buyer.
Confidence is the ultimate fear-crusher, and nothing builds confidence better than a well-organized, thought-provoking presentation.
Whether it's spiders or public speaking, we all harbor fears – fears that can be conquered by recognition, experience, and understanding. After the Persuasive Presentation Skills™ Workshop, you will have the tools you need to banish your fear of speaking forever.
With fear of public speaking a thing of the past, you'll look for opportunities to make presentations!
In the business environment, most presentations are delivered to small groups and the presenter has a matter of minutes to make an impactful presentation that produces results. It's no wonder that C-suite executives place a high value on communications skills when evaluating senior staff.
Signature Worldwide's Persuasive Presentation Skills™ Workshop shows you how to find the right balance of logic, visual expression, and personality to retain, motivate, and influence an audience. This two-day course will focus on creating persuasive presentations by considering the audience, determining the best delivery method, and maintaining positive interest from your first word to your last.
During the workshop, you'll be actively involved in group discussions, brainstorming, and in-depth experiential learning as you master presentation techniques. Along the way, participants receive meaningful feedback from Signature's experienced trainer.
Leave the session with the confidence and tools to deliver an impactful and persuasive presentation every time.
You will have the ability to:
Determine the right delivery method based on the audience, the environment and the message
Evaluate the effects of verbal and non-verbal communication techniques
Select the components of a successful persuasive presentation that will have the maximum impact on your audience
Assess and determine behaviors and techniques that will energize your audience
Effectively use tools to enhance your presentation such as PowerPoint and other visual aids
Develop a 'call to action' that applies to your own personal and professional situation
Increase employees' ability to persuade an audience of any size through crafting and delivering the right messages
Download our product card for more information:
No matter your team's experience, give them the ability to more confidently deliver impactful presentations that engage audiences and achieve desired outcomes.
Download Now
Speak Up! Give More Confident, Persuasive Presentations
Our guide will share seven techniques to banish your fears and deliver memorable and compelling presentations.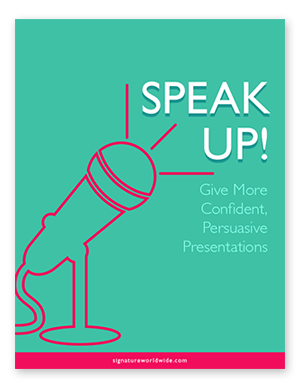 Ready to get more from sales and customer service training? Our proven process will set you up for success.