Let your hotel's team take the lead with the Signature Service SkillKit™ or Planner.
The Signature Worldwide Service SkillKit empowers your management team to train, coach and energize employees using activities and exercises specifically designed for brief, daily team meetings.
These core service skills, when executed consistently by all employees, will raise your customer service level and create a competitive advantage:
Be approachable
Acknowledge
Greet
Personalize
Be knowledgeable
Be proactive
Commit
Listen
Exceed Expectations
Through education and awareness of core service skills; brief, daily reminders of the importance of those skills; and successful delivery of service that exceeds guests' expectations, your employees will encourage customer loyalty.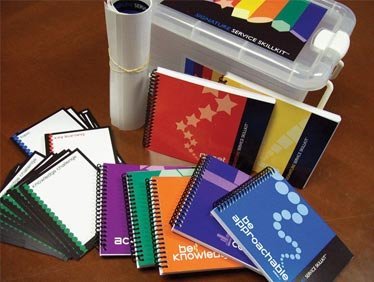 A Signature Worldwide trainer introduces department leaders to the SkillKit, which is filled with activities and tools used to keep employees focused on delivering legendary customer service. Managers learn when and how to use Skillkit training materials.
Your department managers then utilize the SkillKit when leading daily meetings.
Your employees participate in activities and discussions during these team meetings that highlight core service skills, which they will need to consistently execute to build a customer-focused culture.
Your customers will be delighted with the more knowledgeable and attentive employees who exceed their customer service expectations. They will return more often and refer more customers.
Keep your hotel employees focused on the guest experience with a Signature Worldwide Service SkillKit or calendar planner which is packed full of daily activities and reminders for customer service skill training.
Customer service training on a daily basis.
By using the SkillKit or planner calendar, management teams will deliver hotel employee training developed around Signature's proprietary Magic Formula before every shift to every customer service employee.
Through a variety of group activities, including knowledge challenges, employees will:
Gain daily awareness of core customer service skills
Understand the importance of legendary customer service
Learn to consistently exceed guests' expectations
Gain service skills needed to entice customers into longer stays and repeat visits
And because Signature Service SkillKit is specially designed to change employee behavior and create a lasting impact, it includes tools that help team leaders energize employees with continued training and coaching
Signature Service SkillKit is ideal for hotel customer service training and makes an excellent casino management training tool. The kit or planner calendar should be utilized by all employees that interact with customers and impact the guest experience.

Ready to get more from sales and customer service training? Our proven process will set you up for success.